Get organised for Christmas early with FREE access to the My Big Money Goal Christmas Countdown.
For a lot of people Christmas can be a time of enormous stress and huge expense. We've put together some of our best stress-busting, budget-saving, family-friendly tips, tricks, reminders and resources. We'll add new stuff each week as we countdown to Christmas.
What's included
access to our Christmas portal
new content added each week in the lead up to Dec 25th
recipes, checklists and printable Christmas templates
weekly emails brimming with Christmas saving tips and practical tips to survive the silly spending season
Bonus – Christmas on a Shoestring Budget Ebook
Our Bonus Gift To You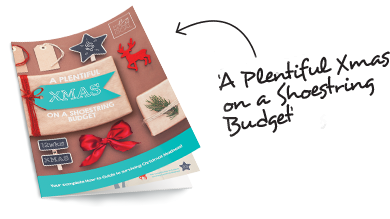 Signup now and you will receive a free copy of our 'A Plentiful Xmas on a Shoestring Budget' ebook where we share some survival tactics that will help you get through the day, and save an amazing amount of money too.
In Our Ebook You Will Learn About:
How to nearly avoid the whole big drama (this will suit singles, DINKS (double income no kids), and savvy Christmas drama avoiders)
How to keep it simple Christmas day. Less effort, less stress, less waste
And how to cope with Christmas in the most affordable way
Fill out the form below to access the Countdown to Christmas with My Big Money Goal and receive a free copy of 'A Plentiful Xmas on a Shoestring Budget' Ebook as our gift to you.