Chris Childs
Why I created this program
We all like to be in control. Yet most people live "lives of quiet desperation" as Thoreau once said.
I have made it my life's passion to share what I have learned about financial security, enabling people to reach their goals and enjoy a life of happiness and fulfilment and leave behind the sense of desperation that plagues so many of us. This program shares all I have learned over many years building a wealth and property portfolio.
It is my dream to help as many people as I can take control of their finances, reach for their goals and turn their lives around.
Want a free sample?
Weekly Challenges
See what the program is all about. Follow the link below for a free sample of the program, take the weekly challenge and see where it gets you.
You'll find fresh inspiration to help you strive for your goals and improve your financial outlook.
get sample
want to join?
Ready, Set, Go!
Ready to take the plunge? Registration is quick and easy. Just follow the link below and you'll be taking the first step towards financial security and a happier, healthier life.
Success is within your reach. The future begins here.
Join Now
in a nutshell
What you Get
The My Big Money Goal program is packed with helpful resources to assist you in realising all your financial dreams.
Inside the kit you'll find a quarterly goal tracker with easy to follow tutorials, Chris' Money Management System, access to the Think Budget App and a quick start guide to using it. You will also receive Weekly Mini Sprints and Life Hacks to get you saving money and improving your life, health and attitude.
Get Sample
Take action to make change
Changing habits...
My Big Money Goal is about changing the way you look at money. Providing no-nonsense advice about managing your finances and reducing your debt.
Nothing will change until you decide to take action. My Big Money Goal will teach you healthy habits you can apply to food, finance and fitness.
You'll learn the secrets to saving money, budgeting, understanding goals and implementing strategies to improve your attitude and outlook in every area of your life.
Understanding Money
Helpful tools...
Ever look at your bank statement and wonder, "Where did it all go?" Your My Big Money Goal pack includes the Think Budget app which will allow you to record and track all your expenses.
Custom designed with an easy to use interface, the Think Budget app is an essential tool for understanding your finances and helping you reduce your spending and increase your savings.
Available on any platform, you can take it with you anywhere. Your budget data is stored safely on secure cloud servers, giving you instant access and up-to-date info.
Think Budget App
What's your big money goal? Budgeting just got easier with our new app.
Tell me more
Lifehacks
Tips and tricks to get you thinking creatively, help you save money, change your mindset and improve your attitude.
Mini Sprints
Small, weekly challenges to help you get creative and build momentum towards your goals.
Think Budget App
Get control of your finances easily with our new Think Budget App. Designed to make budgeting and meeting your money goals easier.
Fact Sheets
Understand how the system works, the importance of goal setting and what the challenges and mini sprints can help you achieve.
Goal Setting
Failure to plan is planning to fail and if you don't set a target how will you ever hit it? Learn the secrets of goal setting with regular advice from Chris.
Facebook Group
Keep up to date with the latest news and events via the Facebook group.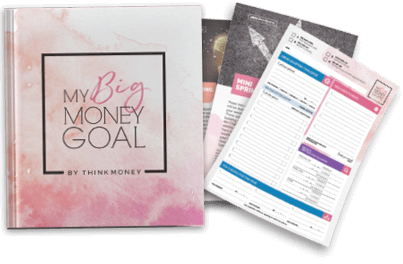 Events
Intensive training sessions and positive reinforcement are a great way to keep your momentum. Plus you'll meet like-minded people who share your dreams.
Review Results
Get regular feedback on what's working and how well you are progressing. Helpful advice is always close at hand.
Launching soon.
Sign up to be the first to know.