I want to help you not just survive, but THRIVE in these crazy times. I'm sending you this daily dose of inspiration, because if we set our compass right, we can sail through this!
"Spend your time with those you love. One of these days you will either say 'I wish I had' or 'I'm glad I did' – the choice is yours" – Zig Ziglar
Tip # 45 : Give the gift of your time and attention
Give the gift of your time and attention to people in your life. It is easy to be so busy doing things FOR other people, that you don't manage to spend quality time WITH them. Take some time to ignore all the things on your 'To Do' list and spend a luxuriously long, focused time with the people you care about.
We all share the same experience of uncertainty in this crazy time, and one of the most powerful antidotes to anxiety is connection.
If you have kids, taking time to be really present with them (to read, play, dance, bake and follow their lead) will change their lives and give them wonderful memories. We all want to feel 'seen' and as though we matter to people – the easiest way to give this to our kids, grandkids, and other children in our lives is simply the gift of our undivided attention.
Partners, friends and colleagues will also bloom in the warm light of your attention and time. Many people have felt isolated during the social distancing, or anxious in the uncertainty – there is an incredible safety that you offer people by making them feel like they belong and are supported. We sometimes think we need to be busy 'doing' things for people – when often 'being' with them is the most powerful thing we have to offer.
Try to also make space for connecting with the older generation – we often feel 'too busy' but they will appreciate it so much. Ask questions and learn something about them that you may not know. 
Time is a precious gift and the spotlight of you attention is a very warm place to be – be generous with these things and you will uplift yourself as much as the people you are giving it to.
Recommended Reading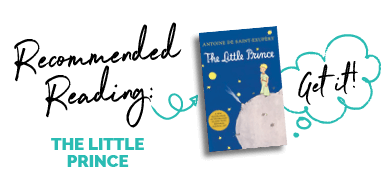 The Little Prince, by Antoine de Saint-Exupéry
Combining Richard Howard's translation with restored original art, this definitive English-language edition of The Little Prince will capture the hearts of readers of all ages.